About Universitas Gadjah Mada (UGM)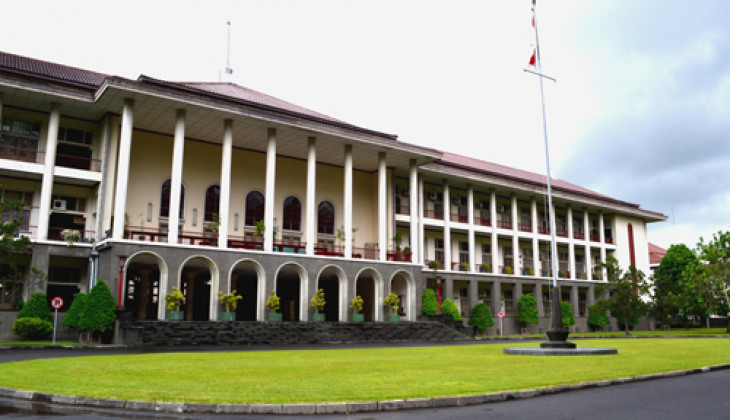 Universitas Gadjah Mada (internationally known as Gadjah Mada University; Abbreviation: UGM) is an Indonesian public ivy league research university located in Yogyakarta, Indonesia, founded on December 19, 1949. UGM is ranked first in Indonesia and 254th globally according to QS World University Ranking (WUR) 2021 and serves as the oldest and largest institution of higher learning in Indonesia.
As one of the most prestigious universities in Indonesia, this 360-acre university consists of 18 faculties, 68 undergraduate study programs, 23 diploma study programs, 104 master and specialist study programs, and 43 Doctorate study programs. It has approximately 55,000 students, 1,187 foreign students, and 2,500 faculty members currently.
We pride Universitas Gadjah Mada as an institution that is committed to give back to society and deliver excellent standards in everything we do, as illustrated by our university motto: Locally Rooted, Globally Respected.
---
About Special Region of Yogyakarta
The Special Region of Yogyakarta of where UGM is located in one of the smallest provinces in Indonesia and has been widely known as a center of Javanese culture as well as a center of learning. It has 3,400,000 inhabitants, 511,000 of whom reside in the city of Yogyakarta. Its designation as a center of learning is marked by the existence of 120 state and private tertiary educational institutions, with a student population of over 300,000.
Yogyakarta has a robust social entrepreneurial ecosystem with stakeholders such as Non-Profit Organizations, Non-Governmental Organizations, and Small Medium Enterprises. Numerous Non-Governmental Organizations and Non-Profit Organizations in Yogyakarta are operating, managing, and running programs to address various social issues. The fast-growing market size of social enterprises in Yogyakarta implicates our possibility as part of 180DC to embark on a journey of empowering Indonesia by consulting and supporting the establishment and sustainability of a robust entrepreneurial ecosystem.
---
180 Degrees Consulting UGM
The UGM branch of 180 Degrees Consulting was established on 17 October 2020. We have two main arms: Consulting (which is client-facing) and Sustainable Organization (which is public-and-internal-facing). In consulting, project leaders and project analysts will assist the clients by running a consulting project as a means of helping them to overcome any challenges they might be facing or by just helping them take that next step towards where they want to be. To maintain a sustainable organization, functional analysts will manage the operations of our newly-founded branch to ensure it will run smoothly and sustainably as a means of our succession planning.
In order to maximize the potentials of Non-Profit Organizations, Non-Governmental Organizations, and Social Enterprises, 180 Degrees Consulting Universitas Gadjah Mada (UGM) exists to help them by providing affordable consulting services by our qualified and trained students. Our ability comes from teamwork, in line with our internal motto: Grow by growing each other.

---
Our Vision
To leverage the long-lasting impacts of our clients by means of providing opportunities for 180DC UGM consultants to deliver innovative and sustainable solutions.


---
Our Mission
To provide the Non-Profit Organizations, Non-Governmental Organizations, and social enterprises with affordable services that are specifically tailored to address their underlying issues while growing our consultants to be exceptionally talented individuals who give back to communities.


---
How to Join Us & Request Consulting Services
Stay tuned to our social media to get the latest recruitment and event updates from us
Generally, we open applications for UGM students who are interested in becoming Functional Analysts, Project Leaders, and Project Analysts at the beginning of the university's academic year
If you would like to request consulting services to 180DC UGM, feel free to direct your email inquiries to the Director of Client Engagement and

[email protected]
---
Contact Us & Get Updated
Contact Branch
Address:

Bulaksumur, Caturtunggal, Kec. Depok, Kabupaten Sleman, Daerah Istimewa Yogyakarta 55281, Indonesia
Universitas Gadjah Mada (UGM)
Indonesia